Our platform has four main points:
A new economy
Launch an incubator
Let's fund the Solidarity Economy Incubation Zone (SEIZE), and begin leading the transition of our economy:

The CSU has been mandated with creating a solidarity economy incubator for several years. This initiative began when students voted overwhelmingly in favor of a referendum question asking if they "support the CSU employing its resources, including a portion of [the SSAELC fund] to establish an autonomous Concordia-based solidarity economy incubator. Last February, the CSU voted down a proposal to do just that, in spite of the referendum mandate, a petition signed by more than 900 students, and the unanimous recommendation from their own policy committee. At the request of a few councilors, one of whom is our Student Life Coordinator, Sam Kaiser, the CSU had another chance to allow students their right to vote on the incubator. They again shut it down, calling the project "disgusting" and claiming that "students don't care".
The members of New Community support the SEIZE campaign. Students have expressed their interest in an incubator, and the SEIZE campaign rose to meet that interest by developing a workable model with huge support from a variety of stakeholders, including both internally with the Sustainability Action Fund, Hive Cafe, and Sociology/Anthropology Student Union, and externally, with the Canadian Worker Cooperative Federation. We believe the CSU failed its referendum mandate and silenced the voices of students by not allowing them to simply vote on whether or not we should have a solidarity economy incubator. We believe students have the right to a vote, and if elected, we will actively support the development of an incubator, and will put SEIZE's referendum questions to ballot so that students can decide for themselves.
Seed Funding
Let's create new funding to invest in student entrepreneurship, and accelerate the creation of a new economy
The CSU has a $10,000,000 fund, dubbed the Student Space, Accessible Education, and Legal Contingency (SSAELC) fund. Over the years, there have been campaigns at Concordia targeting the way the CSU handles its investments. One of these campaigns is Divest Concordia, of which three members of our team are members: Nicolas Chevalier (our External and Campaigns Coordinator), Marcus Peters (our General Coordinator), and Desiree Blizzard (our Finance Coordinator). Due to pressures from these campaigns, the CSU had to ensure it wasn't investing in fossil fuels and other toxic industries, and so the union began investing in SRI (socially responsible investment) portfolios. These portfolios now make hundreds of thousands of dollars a year in investment returns. The vast majority of the returns on interest simply feed back into the fund itself.
We believe that a portion of those investment returns should be repurposed to create a new source of funding and grant money for Concordia entrepreneurs, so that we can help develop the solidarity economy. This will ensure that Concordia undergraduates have huge support in developing socially conscious, environmentally sustainable, and economically efficient businesses, and is a way the CSU can give back to the students who pay union fees.
Funding of this kind has a name: seed funding, which traditionally means capital invested with the interest of developing a profitable business model. We want to reinvision SEED funding as Solidarity Economy Entrepreneurial Development, and use it specifically for investing in organizational models developed by students that are (along with being economically feasible) owned and operated by workers and the community.
food system
Build a greenhouse
Let's build a greenhouse at the Loyola campus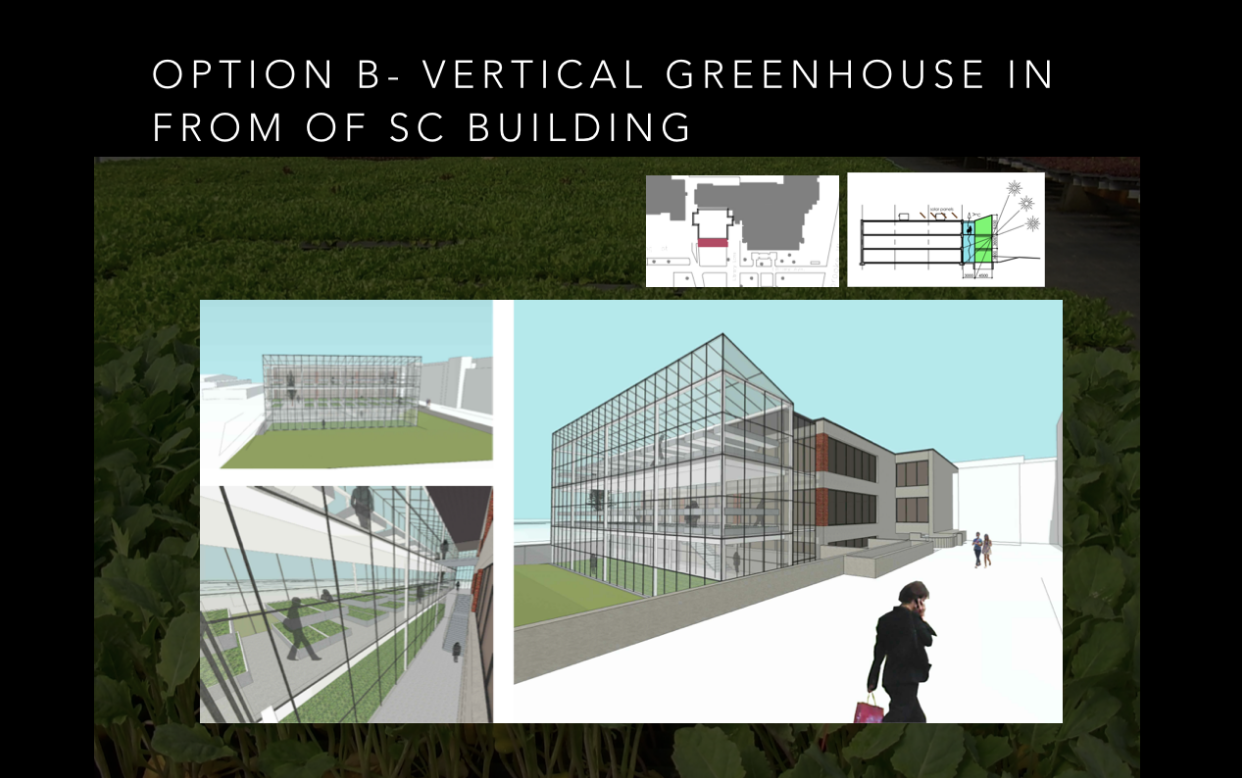 The Hive Cafe was created in 2014 with the mission of becoming a model food distributor on campus that could eventually take over the university food system. Concordia's food contracts are traditionally held by massive multinational corporations like Aramark, whose regular clientele are prisons.The Hive Cafe is is well on its way to challenging these companies grasp on our campus. It operates a free lunch service at Loyola, sources some of its food in the Concordia greenhouse, formed partnerships with local farms (who now actively support the cafe and have representatives on the Hive's board), and turned a profit in its first 3 years of operations.
We want to build from this progress. The Hive Cafe was started with an investment from the CSU of over $100,000. One of the other projects that the CSU was developing at this time was to build a greenhouse at the Loyola campus, which would both create huge opportunities for students in the form of internships and hands-on learning, as well as produce food for the Hive. Unfortunately, this project was abandoned over the years, despite huge support from the student body. We want to reboot this project, and leverage the creation of a new greenhouse towards shifting the university food system into one that is more local, more sustainable, and embedded within its student community.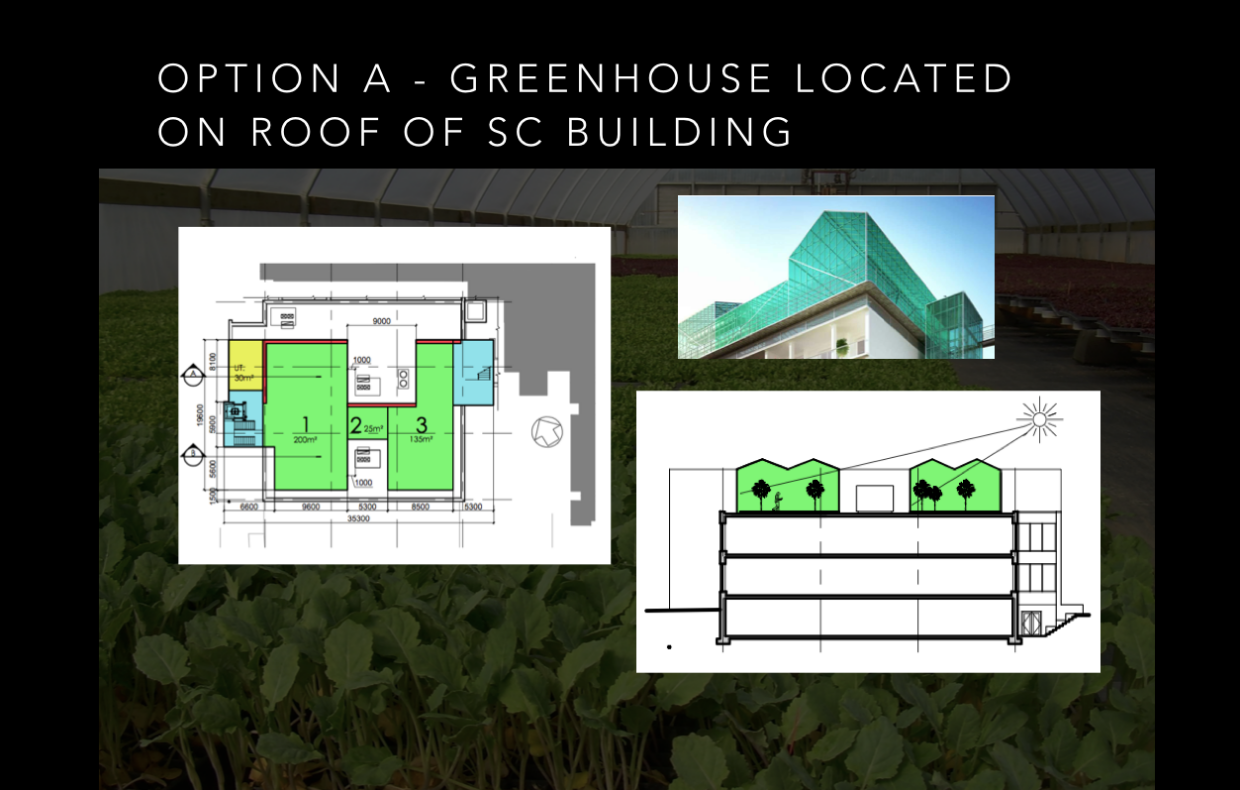 Constructing a greenhouse will be a huge project, and in keeping with the CSU's regulations, after we have completed the architectural plans and developed a sound business plan, the cost and scope of the project will be put to referendum for the student body to vote on prior to implementation.
Expand Student Cafes
Let's take over the food system.
The Hive is becoming a successful student-run cafe on campus. We want to continue to build this model, both by expanding the Hive into other parts of the campus, as well as by launching new student operated restaurant services on campus to replace existing corporate locations. By doing so, we can build a student-run food system that can eventually become big enough to bid on the university food contract.
What if the costs for (resident) students enrolled in mandatory meal plans was closer to the production cost of the Hive's free lunch services, which last year totalled less than $0.50 per person per plate? What if the sourcing for the food prioritized local and sustainable producers, in the way the Hive Cafe does? What if the money students pay into the contract went into a community-grounded organization, and not the more traditional (and current) contractors whose clientele are typically in the prison industry? We could create the model food system, improving the quality of food on campus and massively reducing our collective carbon footprint.
The members of New Community are well versed in how to accomplish these goals. We're constantly working with Concordia community groups, such as our Sustainability Coordinator Imogen Bysshe, who secured grants from Sustainability Action Fund (SAF) to work on the Entomo collective, or our General Coordinator Marcus Peters, who has been on the board of the Hive Cafe for nearly 3 years, or our Academic & Advocacy Coordinator, Jessica Avalos Salas, who is actively working with a group of students to create a student smoothie cooperative for the downtown campus. With our experience and your support, we can build on the work of students and expand a new food system at Concordia.
Insource the Health and Dental plan
Let's manage our own plans, reduce our costs, and expand mental health services
All Concordia students pay over $100 a year into a Health and Dental plan, which is a form of insurance that covers some basic elements of student healthcare. The current provider for the plan is Student Care, which is a company that went through a rebranding (it used to be called ASEQ) after it was sued by the AMF (Quebec's financial regulator) for bribing student union executives to secure or extend contracts.
Student Care merely administers the health and dental plan, and effectively operates as an outsourced fee-levy group that is run for profit. What New Community is proposing is to create a new cooperative out of the CSU that can carry this out, in a non-profit capacity. This would have the effect of reducing costs in the immediate term. In the long term, we hope that a portion of the insurance premium at the end of each year could be allocated into a new fund, which would grow over the years and gradually reduce the costs for future students.
With New Community, we believe in the power of students to have a more direct say in the institutions that affect and represent us. By beginning to take control of our own health and dental insurance plans, we can save huge amounts of money, improve the quality of our services, and create a better experience for Concordia students that other universities may begin to follow. We could also use this as an opportunity to drastically expand on mental health services available for students. With your support, we can make it happen!
Build community through advocacy
Let's rethink the way the CSU is run, and develop a stronger connection between the union and its students
The members of New Community met and came together by working on projects and campaigns at Concordia, whether it was our Academic and Advocacy coordinator Jessica working on creating a student cooperative that brought her to SEIZE and meeting with Marcus and our Loyola Coordinator Olivier, or the Divestment campaign where Désirée, Nicolas, and Marcus worked together, which by affinity brought them to meet our Internal & Clubs coordinator Emily, we've come together and decided to run for the executive because we are united by a vision of what Concordia can become.
Campaign against international tuition hikes
Ever since the previous Liberal government of Quebec began deregulating international students tuition in addition to implementing austerity measures, universities across the province, including Concordia, have seen it as an opportunity to exploit international students to balance their budgets. This began with STEM students, but has since began to affect other departments. This is unacceptable, we should all be working to make education accessible for all, and the team New Community will continue to represent all the members of the CSU by shutting down on proposed increases to tuition at every opportunity.
Campaign against sexual violence on campus
It is no secret that Concordia is one of the worst universities in Canada on the issue of sexual violence. This follows several scandals that have come up regularly in our university, most recently in the English department. The university has been frustratingly slow on this issue, and students deserve to study and relax in an environment free from sexual harassment and violence.
New Community is committed to continuing the CSU's collaboration with the SARC (Sexual Assault Resource Center) and other sexual violence advocacy groups such as Students for Consent Culture Canada for the purpose of finally having a solid Sexual Harassment policy in place that will educate and protect students from sexual violence. We will hold the university accountable to its lack of action in every representative body where the CSU is represented, from the Board of Governors to university Senate to the dozens of organizational committees and boards that make up the multiple mandates of the executive.
Fossil fuels divestment
Concordia became the first university in Canada to begin divesting from fossil fuels in 2014, with the establishment of a $5 million socially responsible investment (SRI) fund that screens out fossil fuel and other toxic industries. This came after huge amounts of pressure from the student group Divest Concordia, which subsequently launched a campaign at the CSU to get the CSU's investments to be divested as well.
It's been 5 years since the university has started that process, and as far as students know they have yet to make any more moves towards divesting the rest of their nearly $200 million in investments, of which they openly admit around $12 million is invested, directly or indirectly, in fossil fuels. New Community has experience in pushing for divestment from many of our members, and we would pressure the university to take its own research on climate change seriously, joing a global movement that's been endorsed by the UN and entire countries, add Concordia's investments to the list of those divested from fossil fuels. If the entire country of Norway can decide to divest a $1 trillion fund, the largest in the world, than why can't Concordia?
Indigenous advocacy at Concordia
CSU council meetings appropriately begin with a land acknowledgement, which is something the members of New Community want to push to be normalized at both Senate and the Board of Governors. We will be working with Indigenous Directions, FPSTMA, ASRC and the Indigenous Student council, amongst others, to establish a decolonization workshop for counselors, executive and Senate, led by an indigenous organization. Because no matter people's backgrounds, knowing the true history of the land we live on should be mandatory at all levels of learning, starting with the decision makers. We will also be working with these groups to 94 calls to action of the truth and reconciliation commission and see how we can properly implement and expand on them, also looking at the action plan that Indigenous Directions will release on April 4th, within the context of the union. Concordia is an institution built from a colonial state that has a dark and brutal history with the indigenous peoples. We must work towards dismantling those parts of our social, economic, and political systems that are built over this historically exploitative relationship, and find ways to empower indigenous peoples not just through acknowledgement, but through active support.
* * *
Running a union means a lot more than what you read on here, after all, the CSU is a massive multi-million dollar organization with dozens of staff and connections at every level of the university. Just like any responsible team that wants to find itself in the executive positions of the CSU, we believe in supporting and advocating for all the students, and this includes continuing the good work that is carried out at the union.